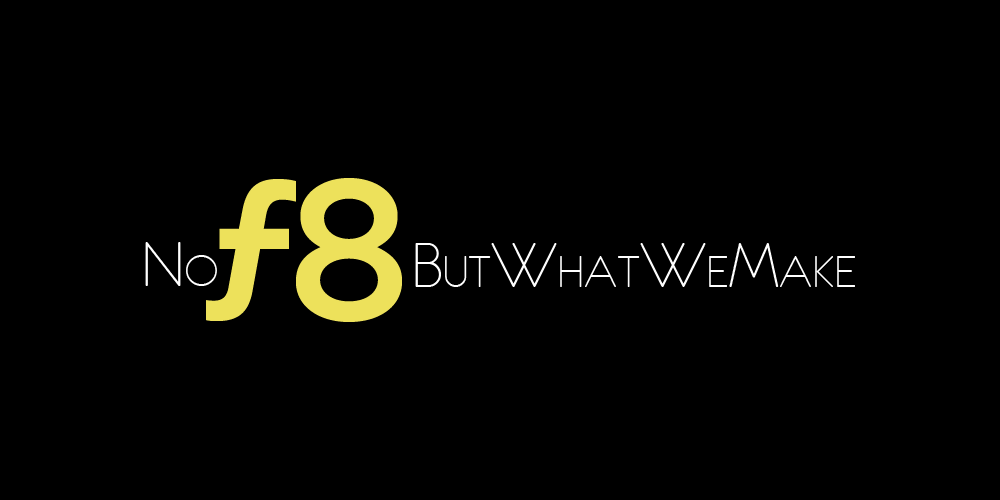 ƒ8:  Often also written as "f/8," ƒ8 represents the f-stop of a lens' aperture that is generally the sharpest setting among just about every lens out there.  For a nice technical definition of an f-stop, here is a good explanation.
In an Internet ocean full of photography tutorials and blogs, there is one thing that each site commonly strives for: credibility. There is a wealth of information out there for the beginning photographer, but often times this information unfortunately becomes misinformation. Some more prominent sites feature photographers who attempt to give advice without actually having personal, first-hand experience with certain subjects or equipment. In other cases, high-traffic websites feature tutorials or tips and tricks that simply do nothing to actually help a beginning photographer.  Thus, the goal of No ƒ8 But What We Make is to break out from these woeful doldrums of hypocrisy and mediocrity and actually provide a helpful, real-world, example-driven collection of tips, tricks, and opinions from photographers who are active in their respective crafts and specialities.
Contributors to this website work and live in their respective fields, which helps solidify the credibility of their advice and opinions. We're not going to review a camera or lens unless we've actually used it in the field thoroughly.  We won't give advice or share tips if we don't have examples to show why it's the right thing to do. Experience is what gives us our credibility and expertise, not the amount of website traffic we receive or the number of fans we have on Facebook. Rather than being forced down a preconceived path of misinformation and ill-guidance, we're here to help you create your own path based on our own previous successes and stumbles.
No ƒ8, or "FATE," but what WE make. Follow our lead, and you'll be able to make your own creative fate in photography.  Not only will you find tips, tricks, and tutorials here, but also news, reviews, and opinions from actual professional photographers.  We'll also feature some awesome photography from our established contributors, along with up and coming photographers who have followed our lead. It is our contributor base that separates us from everyone else and it is our hope that with our guidance, we'll be able to help make everyone, beginner and professional alike, better at photography.